Did you know that the number of visitors to Japan increased a massive 18 per cent between June 2016 and June 2017? Yes, the Land of the Rising Sun has quickly gained a reputation as a clean and safe country, offering a special cultural experience found nowhere else in the world.
This growth has coincided with Australians now enjoying daily direct flights with Qantas and Japan Airlines into Tokyo and Osaka. As such, it has never been easier to book your flights with an FBI Travel Advisor, jump on a plane and immerse yourself in everything that is great about Japanese culture, traditions and development.
Keen to learn about where you should go in Japan? For the inside scoop, we spoke to FBI Travel Advisor Michelle Adler to share a few of her Japanese destination highlights.
What time of the year should you go to Japan?
This is one of the most common questions that people ask about Japan. With its defined seasons and varied landscapes, Michelle says the decision really comes down to what you want to see.
"For example, the famous cherry blossoms only emerge during certain times of April and May, but you could miss them if you get the timings wrong," she said. "Moreover, you might be keen to see the beautiful colours of autumn during October or November or are an avid skier which means December through to February are the best times."
This means that before you head to Japan, talk to your FBI Travel Advisor who can advise when the optimal travel window is for you, based on your favoured events and desired weather conditions.
Tokyo region
Covering over 13,000 square kilometres, the expansive Tokyo region will likely be the first place you visit in Japan. One of Michelle's top picks is the Harajuku district in Shibuya.
Serviced by the Yamanote Line, it's the home of Tokyo's 'kawaii' culture, Lolita girls, Decora and Pamyu Pamyu. Around Harajuku, you can also find some of the best restaurants, cafes and fashion boutiques in the capital. Even if you aren't interested in shopping for something 'kawaii', it's still worth taking a look around and experiencing the fun of the culture.
While in the area, be sure to stop by Starbucks. If you're wondering why Starbucks, it provides the perfect view of the busiest intersection of the world – Shibuya Crossing. There are people everywhere and from this vantage point, you can watch the crossing over and over again!
Of course, a trip to Japan isn't complete without visiting a fair share of temples and shrines. Around the famous Shibuya district, the best is Meiji Shrine. Dedicated to the deified spirits of Emperor Meiji and his consort, the shrine is located in the heart of Yoyogi Park with rich-green forest, birds and large traditional torii gates.
Michelle was travelling with her teenagers and while some love visiting the incredible architecture and galleries, it's fair to say that others find it a little boring. As Tokyo has something for everyone, even children can be entertained. This includes the 634m Tokyo Skytree with expansive views out to Mt Fuji and Tokyo Disneyland which appeals to both the young and young at heart.
Kyoto region
Kyoto represents the Japanese heartland and is regarded as the centre of traditional Japanese culture. Although close to 500km separates Tokyo and Kyoto, it's an easy 3.5 hour ride on the Shinkansen (bullet train) where you'll arrive in a region surrounded by lush forest, hills and lakes.
For Michelle, Fushimi Inari Shrine underpins everything that is great about Kyoto. Famous for its thousands of vermilion torii gates, the shrine is positioned on the hillside of the sacred Mount Inari. As you traverse the trails up the 233-metre mountain, you walk under these ancient gates – marvelling at the intricate designs.
"I love the Fushimi Inari Shrine area. The way that it's built into the beautiful surroundings and the other temples is brilliant," Michelle said.
Another good example of Kyoto's natural beauty is the Arashiyama Bamboo Grove – one of the most popular sights in the region. Open 24 hours, the Arashiyama Bamboo Grove is a series of trails that are lined with tall sprawling bamboo. This makes for some stunning imagery as Michelle enjoyed.
"The whole Arashiyama area is great for photos. It was pretty spectacular walking through with the bamboo shooting above you – divine," she said.
Closer into the city, Michelle believes you can't miss the Higashiyama Ward on the eastern side of the Kamo River. With its narrow lanes, wooden bridges and abundance of 15th-century Japanese shrines and structures, this part of Kyoto is like stepping back in time.
During cherry blossom season, one great spot in the Higashiyama Ward is the Philosopher's Walk – a path that follows a small canal.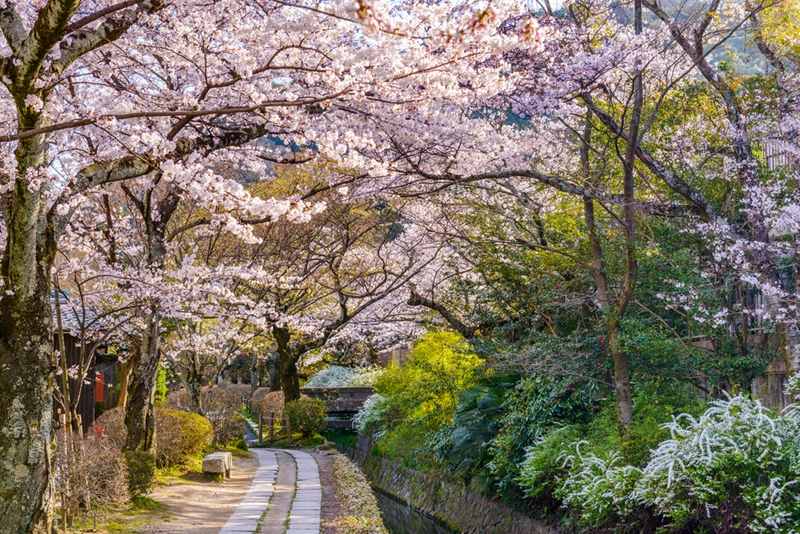 "When the cherry blossoms are in season, they overhang the canal so it's really pretty. You can meander down the path at your own pace and enjoy the scenery," Michelle explained.
"You walk along the path and there are cafes and small boutique shops – a nice leisurely stroll at any time of the year."
This is similar to the rest of Kyoto's main city centre which is very flat and spread out so you can easily make your feet do the work as you soak in the atmosphere.
Takayama and Shirakawa-go regions
Of course, Japan is more than just busy cities – you also need to get into the mountains and experience the true Land of the Rising Sun. Michelle believes the perfect place for this is the Takayama and Shirakawa-go regions.
Takayama is located in the Gifu Prefecture, high in the mountains. Known for its lovely narrow streets, traditional Japanese onsens and friendly locals, Takayama holds its traditions close to its heart – showcased in the biannual Takayama Festival which features ornate gilded floats and puppet shows.
"Takayama has many typical old-style Japanese buildings and give a great authentic feel to the town," she said.
Shirakawa-go is northwest of Takayama and also offers a more traditional take of Japanese tourism. This is seen in the historic villages of Shirakawa-go and Gokayama which are one of Japan's three UNESCO World Heritage Sites.
These villages feature farmhouses built in the gassho-zukuri architectural style – a steeply slanting thatched roof in a triangular shape preventing the heavy winter snowfall from settling.
Exploring Japan at your own pace
We have only touched the surface when it comes to visiting Japan. Regardless of the season, region or budget, you can enjoy a Japanese adventure packed full of good food, beautiful sights and cultural experiences.
To start planning today, get in touch with your dedicated FBI Travel Advisor on +61 (3) 8573 0900.