A relative newcomer to the United States, Hawaii with its natural beauty has combined excellently with the American spirit since it became a state almost 60 years ago. This has resulted in an environment that stays true to local cultures and traditions, but also has everything you could ever want in a holiday.
Hawaii is a perfect destination for couples, families as well as solo travellers – just read on to learn about our very own Travel Manager Deborah Hilton's experience to this special part of the Pacific Ocean.
Getting to Hawaii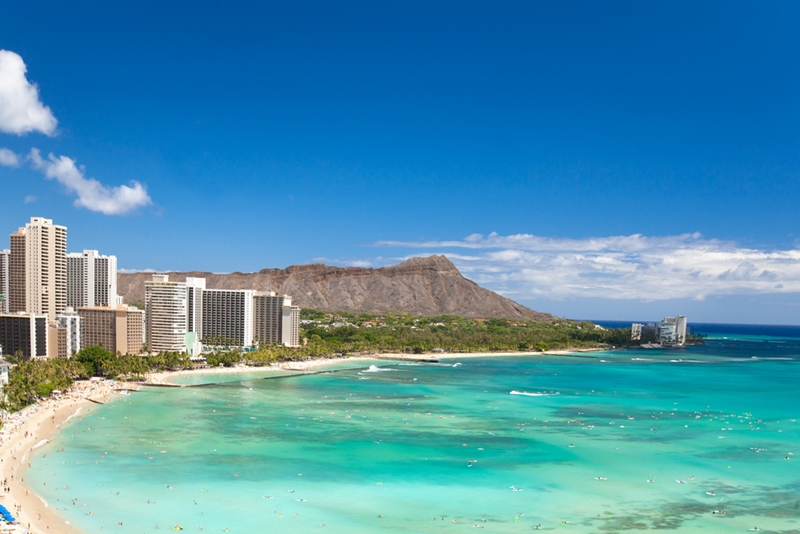 If you've been dreaming about a Hawaiian holiday, you'll be glad to hear that recently flights into Hawaii's capital, Honolulu, have become more frequent from Australia. Deborah flew Qantas Business Class via Sydney, enjoying a pre-flight dinner in the Qantas Lounge. Since the late night 9-hour flight only serves a light menu, she said it was great to enjoy the relaxing atmosphere in the Neil Perry dining room.
Upon arrival to Honolulu International Airport, on the island of O'ahu, Deborah took a 40-minute taxi ride to her first of several hotels – the Four Seasons Ko Olina.
Enjoying the sights and experiences of O'ahu
Deborah enjoyed three nights at the five-star resort on O'ahu's sunny western coast. The Four Seasons Ko Olina offers many rooms that look over the stunning vista of the nearby lagoon and wider Pacific Ocean – encapsulating the sheer beauty of Hawaii.
O'ahu is famous for its surf scene. People come from all over the world to test their skills on the breaks of Hawaii's North Shore – home to the best surfing spots in the region. Deborah took the opportunity to go on an organised tour and watch a World Surf League competition. With scores of spectators and the chance to soak up the warm Hawaii sun, a trip to the North Shore must be on your Hawaii bucket list.
O'ahu also offers excellent shopping outlets with many of the top brands located just a short distance from the Four Seasons Ko Olina.
As for the hotel itself, Deborah enjoyed the laid-back feel, enjoying a one hour spa treatment in their luxury spa. There are also Hawaiian Healing Therapies, Massage Therapies and Body Therapies where you can take time out of the sun and simply get pampered.
The Four Seasons Ko Olina offers four outstanding restaurants to choose from – Fish House, La Hiki, Noe and Waterman Bar & Grill.
While O'ahu is fun, there is plenty more to discover on other islands.
Lanai – a simple paradise
Situated just a short 30-minute flight southeast from Honolulu is the secluded island of Lanai. Deborah stayed at the newly renovated Four Seasons Lanai, a magnificent three storey, +200 room property, set in lush tropical gardens. This hotel is the only structure on the island – providing a tranquil and private escape from reality.
Deborah was very impressed with the resort, noting the large luxurious rooms with private balconies and sea views. In fact, as Lanai is deemed a marine reserve, you might be lucky enough to spot a spinner dolphin or whale from your window!
While on Lanai, Deborah was taken to lunch on Manele Golf Course before having a few swings on the green. With the tranquil background of the island overlooking the ocean, there isn't a more perfect spot to practice your drive.
Again, the Four Seasons Lanai has a number of restaurants to choose from including Malibu Farm, One Forty and Nobu Lanai, which offers fresh locally produced dishes to complement the sea views.
To finish her exploration of Hawaii, Deborah travelled east to Maui – the state's biggest island.
Maui – Hawaii's heartland
Deborah took the 45-minute ferry from Lanai to Maui for the day and was lucky enough to see whales and dolphins swimming in the wake of the boat. While Hawaii is part of the US, it's experiences like this that show how different a holiday here can be.
Deborah visited the Four Seasons Maui, describing it as "very beautiful". As one of the most popular resorts on the island, the five-star establishment is well-known for its excellent service and amenities. If you do stay here, it is recommended to try one of the many wellness offerings and Hawaiian massages which take place in a stunning background.
To fly back to Australia, Deborah returned to Honolulu. She stayed at the five-star Halekulani resort, enjoying the various sights and sounds of Waikiki to finish the trip on a true high.
Hawaii is a relaxing destination that is easy to get to from Australia. If you fancy a Pacific Island holiday with a difference, get in touch with Deborah directly or contact 1800 359 324 or enquiries@fbitravel.com.au.