Asia is the world's largest and most populous continent. As such, there are dramatic differences across the region, from cultures and traditions, to landscapes and tourism destinations. FBI Travel Manager Debbie Grace saw this beautiful contrast for herself as she travelled to, firstly, Singapore and then Bhutan.
Singapore – a modern, traditional destination
Debbie flew business class via Sydney on a 777-300 with British Airways. The spacious cabin combined with the world class food and service ensured that Debbie had an enjoyable flight from start to finish.
Debbie reached Singapore in just over eight hours. And the first destination? Sentosa Island – a resort destination, tranquil and beautiful.
Despite the fact that Singapore is a country within a city, locations such as Sentosa Island allow you to escape the hustle and bustle of the CBD and enjoy spending time with your friends and family. To experience Sentosa in all its beauty, Debbie stayed at the Capella Singapore – the flagship hotel of Capella Group and part of Virtuoso.
Sentosa Island is located on the southern tip of Singapore – connected by a 380m causeway to the mainland. As such, there is a regular shuttle from the hotel to Vivo City just across the bridge. Here you'll find every shop and eatery you could imagine, as well as access to the MRT station which connects you to the rest of Singapore.
As one of Singapore's oldest hotels, many of the buildings date back to the 1800s when the country was part of the British Empire. Of course, just because it was built more than 100 years ago, doesn't mean it hasn't got a touch of luxury. Norman Foster designed all the new sections of the hotel including rooms, restaurants, spa and pool, fusing old and new together in luxury.
Debbie stayed in one of the 57 premium rooms (112 rooms total). At 77 square metres, they are the largest in Singapore with many overlooking the blue water of the Singapore Strait. She described the Capella Singapore as excellent, with the pools, gym, spa and housekeeping all exceeding expectations.
Exploring Chinatown
Debbie also visited the four-star Scarlett Hotel. Located in Chinatown, the 1920s deco hotel has 80 rooms with a mix of standard, deluxe and premium options. This makes it ideal accommodation for not only couples, but also families as well.
The Scarlett Hotel is situated right in the heart of a very hip restaurant area with many local bars, eateries and cafes within walking distance. Additionally, since it is Chinatown, the surrounding buildings have a lot of character and history.
Debbie noted the beautiful Casa Tartufo Italian restaurant at the hotel, run by famed chef Alex who specialises in truffles.
Marina Bay – class, grandeur and rooms with a view
When you imagine Singapore, the centrally located Marina Bay is what comes to most people's minds. With high-rise buildings offering excellent shopping and restaurants almost around every corner, it's a great place to set yourself up for a weekend escape. Make sure you find a seat for Wonder Full – Southeast Asia's largest light and water show lasting 13 minutes set in the heart of Marina Bay.
If you want to stay near Marina Bay, your best options are the Fullerton and Fullerton Bay Hotel. While they have a similar name, the Fullerton Hotel is a neoclassical landmark sitting on the Singapore River, while the Fullerton Bay Hotel is a modern, stunning waterfront jewel.
Fullerton Hotel – This Virtuoso hotel includes a free upgrade on booking and access to the Straits Club. With 400 rooms, there is a mixture of styles to choose from, including Quay Premier rooms, Heritage rooms, loft suites and esplanade rooms. Debbie particularly enjoyed the Club access during this stay.
Fullerton Bay Hotel – This hotel is quite different, with only 88 rooms and five suites available. If you're looking for a more luxurious touch which Debbie experienced, head to the rooftop for a dip in the swimming pool or a tête-à-tête at the Lantern bar the chic meeting spot where    there is a stunning view to Marina Bay, Durian Theatre and Clifford Pier.
Must-see Singapore attractions
Singapore's geographic location lends itself perfectly for visitors from around the world. It doesn't matter if you're looking for a traditional Asian or Western holiday, Singapore is the place for you. Here is an overview of its must-see destinations.
Gardens by the Bay – A showcase of horticultural artistry that comes to life by day and night.
Singapore Zoo Night Safari – Explore the world's first nocturnal zoo, following the trails and listening out for the sounds of lions, hyenas and elephants.
Singapore Flyer – Get a bird's eye view of the country from the 165m Singapore Flyer. On a clear day, you can see as far as Malaysia and Indonesia!
Chinatown – As mentioned above, Singapore has a rich Chinese culture and history and this is celebrated is the aptly named Chinatown. Food, museums, shopping – it's all here!
There is certainly more to Singapore than meets the eye. There is a whole country of experiences and emotions to enjoy which is where the help of an expert travel advisor like Debbie can come in handy. Whether a weekend away or a week-long adventure, Singapore has everything that you want in an Asian break!
Bhutan – the next tourism hub?
Debbie's next stop was Bhutan, flying Druk Air from Singapore. With a smooth check-in, and a surprisingly modern aircraft offering fantastic views of the Himalayas' from the plane, Debbie arrived at Paro Airport in good spirits.
Located high on the Himalayas' eastern edge, the Buddhist kingdom borders both China and India. Bhutan may have affluent neighbours, but was completely cut off for centuries as it guarded its ancient Buddhist traditions. As such, Bhutan is an emerging tourist destination with all the heart and spirit of a traditional country.
Debbie transferred to Como Uma Punakha via the outskirts of the capital Thimpu. Along the way, she crossed the 3000m pass at Dochula with views of the Himalayas. Road conditions vary, but the scenery is fantastic.
If you prefer a more scenic journey to your resort, you could always charter a helicopter from Paro Airport. Many Bhutan resorts have this as an option to provide a bird's eye view of the deep valleys and tall mountains of the region. Talk to your FBI Travel Manager for more information regarding this.
Exploring the heartland of Bhutan at Como Uma Punakha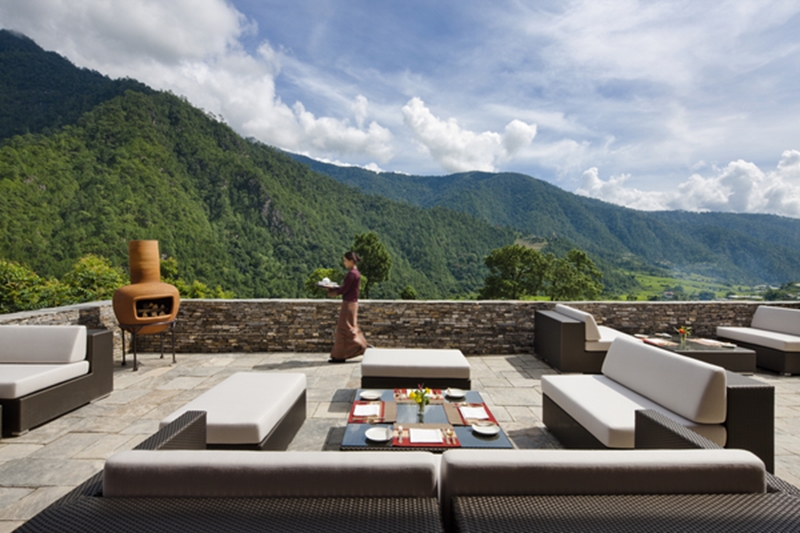 This resort is almost straight out of a fairytale – an intimate lodge set in the midst of high peaks, green forest and flowing rivers. Como Uma Punakha features nine hillside Valley View rooms, and two free-standing luxury private villas (one one-Bedroom Villa and one two-bedroom COMO Villa). All overlook the river below (1,200m above sea level) and the expansive valleys, providing views that need to be seen to be believed.
The Bukhari restaurant serves both local and international cuisine, and the stand alone COMO Shambhala Retreat offers traditional holistic therapies. Debbie notes that you need to get outside and enjoy the seating in the alfresco area – perfect for taking in the grand Bhutan views.
Debbie got the opportunity to see Bhutan for herself on a trip to the 17th century Punakha Dzong fortress. Described as "the most beautiful dzong in the country" by Lonely Planet, the fortress stands out amongst the lilac-coloured jacaranda trees and green-blue river. Punakha Dzong was the seat of government until 1955 and is still actively used by the monk community.
Throughout the year, there are also a number of festivals that you can attend in the surrounding region such as Punakha Tshechu. Often booked out in advance, these festivals showcase Bhutan's ancient traditions and are wonderful for outsiders to gain a glimpse of the Buddhist religion. Your FBI Travel advisor can help plan visits to these festivals and ensure you don't miss out!
Relax in the hot stone bath at Ghangtey Lodge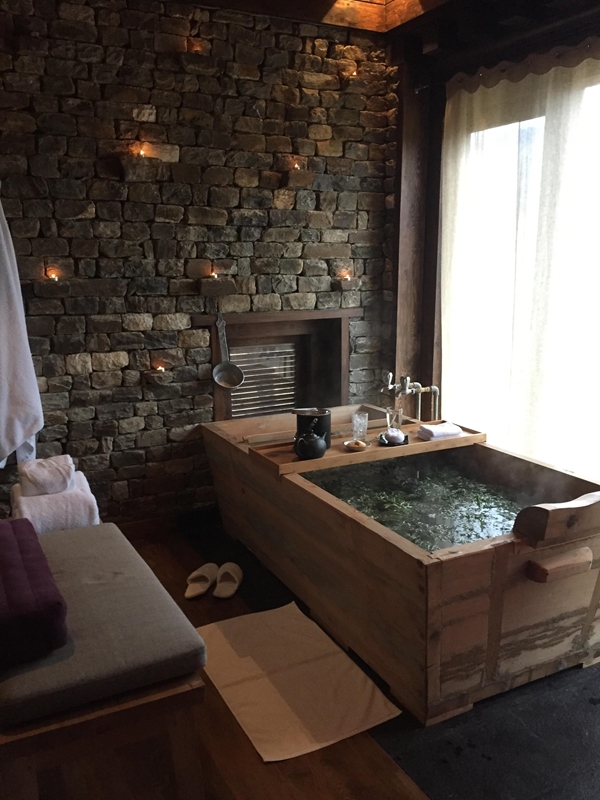 Debbie ventured through the Phobjika Valley passing through stunning countryside and rhododendron forests to reach Gangtey Lodge – more than 3,000m above sea level. Opened in 2013, there are 12 rooms/suites each with their own fireplace, dressing room and view over the valley. Definitely try the hot stone bath and spa, overlooking the wide blue yonder.
There was also an evening visit to the monastery school to watch monks at prayer, a chance to appreciate and learn more about their ancient traditions.
Debbie visited the 16th Century Gangtey Goemba (monastery) for prayers and to receive blessings from Tulku; a reincarnated Lama. This was followed by a walk through the Black Mountains, where she saw the rare black necked cranes which roost in the marshlands over the winter months. In this valley, which is less frequented by tourists, she then had the opportunity to visit locals in their homes and play archery – Bhutan's national sport.
High views and sights from Como Uma Bhutan (Uma Paro)
The next destination for Debbie was Como Uma Bhutan – an intimate 29-room resort that was renovated by Como in 2004. The resort is elevated at more than 2280 metres and features eight beautiful bedroom villas. Every villa has a spa room with butler and butler pantry where you can have your breakfast prepared.
The resort features a library, bar, restaurant, gym, archery and three outdoor seating areas. There is also a beautiful spa, indoor pool and steam area where you can relax after a long day of trekking.
Being a Virtuoso hotel, you can expect a high level of comfort, luxury and service – and the hotel delivered, showcasing the traditions of Bhutan along with Western culture.
On the second last day of her trip, Debbie trekked to the Taktsang "Tigers Nest Monastery" at 2800 metres, as well as Taktsang Goenpa at 3300 metres. Perched on the cliffside of the upper Paro valley, the sacred Paro Taktsang was built in 1692. This trek was definitely one of the highlights of her trip.
Must-see Bhutan attractions
If you want to explore Bhutan at your own pace, there are plenty of other locations worth checking out. Of course, FBI Travel can help you plan your entire itinerary from flights and transfers to hotels and destinations. Here are three must-see Bhutan attractions:
Dochula Pass – This mountain pass located on the road between Thimpu and Punakha is where 108 memorial chortens can be found. Built in honour of Bhutanese soldiers, it's a very spiritual spot that showcases Bhutan's traditional roots.
National Museum – Situated in Paro, the national museum is great place to learn more about the history of Bhutan. You can also see what native flora and fauna you may see out on the road.
Buddha Dordenma – Buddhas are a common sight across Asia, but this one is very special. 51 metres tall, the bronze Shakyamuni Buddha celebrates the fourth Bhutan king Jigme Singye Wangchuck.
Departing Bhutan, Debbie saw the Himalayas again and felt rejuvenated and inspired by her wonderful trip. She travelled to Sydney with British Airways, exploring the excellent BA Lounge at Changi Airport in Singapore.
If you would like to learn more about exploring Singapore or Bhutan, get in touch with Debbie Grace, call us on 1800 359 324 or email us at enquries@fbitravel.com.au.