There is no doubt that daily life can be stressful. Kids, partners, jobs, responsibilities – it can all start to add up and leave you feeling super tired at the end of every week.
If this sounds like you, do we have the break for you. Imagine a world where each day you focus on your own health and wellbeing, surrounded by luscious rainforest, white beaches and an endless horizon. This is Club Med's signature wellness event 'Body & Soul'.
Body & Soul – the key details
The 2017 Body & Soul event was held between May 5 and 28 on Bintan Island, Indonesia – a short ferry ride from Singapore. Tucked away from the sounds of traffic and city life, Club Med Bintan Island is the perfect place to concentrate on your own health, supported by some of the world's best wellbeing instructors.
As Body & Soul is all about personal health and wellbeing, the programme is specially curated into four colour themes – Yellow, Red, Green and Purple. Here's an overview of what each colour represents:
Yellow – Rejuvenate your body with various activities and workouts such as yoga, barre and chi ball.
Red – Recharge and pump your body with high-octane activities such as boxing, tribal rhythm and Zumba.
Green – Rebalance your body with personalised Pilates, meditation and aquagym activities.
Purple – Revitalise and treat your body with relaxing spa treatment and pampering sessions.
On each day of the event, there is a programme designed for one colour – across six repeating cycles. It's up to you to choose what type of activities you want to do based on your personal heath and wellness goals. All activities are run and designed by internationally-recognised instructors who change week to week to add variety to your sessions.
To complement the daily colour/ activities, there is the Body & Soul corner in the main restaurant where you can take in the right superfoods for your body. Rich in vitamins and nutrients, it's all the energy you need to continue feeling good, whichever colour programme!
In May, FBI Travel Advisors Lauren Spanger and Symonne Shenker travelled to Bintan Island with a group of FBI Travel customers to participate in the annual event designed to "reawaken your physical and mental vigour". We spoke to the pair to learn more about their six days at Body & Soul and how you can explore the event in 2018.
Building your own programme
One of the key highlights of Body & Soul is that you can create your own daily schedule depending on how you're feeling. Club Med Bintan Island is a true paradise getaway with plenty of activities to keep you busy or relaxed – your choice!
Lauren explained that she personally enjoys going to the gym so, for something different, joined Symonne for a daily session of yoga on the beach.
"I'd never done yoga before and I really, really enjoyed it. It was at 8 in the morning so it was very easy to do and then we'd go to breakfast," she said.
For Symonne, the colour-coded spa package special was "unbelievable". This included Hawaiian massages and a marine detox on rejuvenate days (yellow) and body calm and Shiatsu focus sessions on revitalise days (purple).
Symonne also enjoyed many of the dance-based activities such as Zumba and hip-hop, which get the heart racing and are a lot of fun. In the setting of Bintan Island, it's hard not to be involved in the rhythm and simply enjoy yourself.
The group left relaxed, refreshed and feeling great in themselves – it's surprising what a couple of days in the sun focussed on health and wellbeing can do!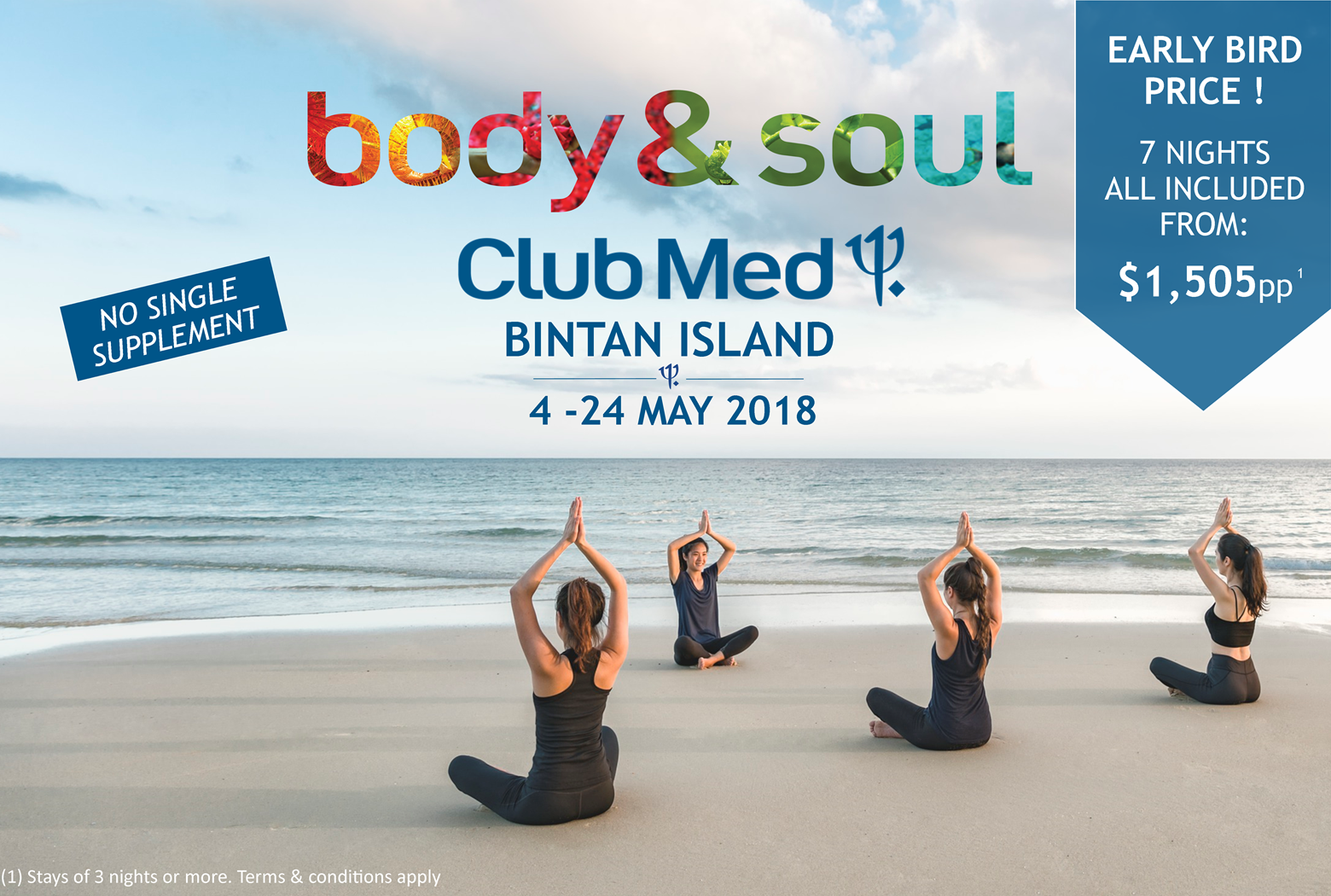 If you're keen to participate in Body & Soul in 2018, FBI Travel can seek out competitive rates and no single supplement charges. For more information click here or reach out to your dedicated FBI Travel Advisor today or call 03 8573 0900.
Terms and Conditions for Body & Soul 2018 Early Bird Rates:
Sun Holidays Early bird 2018 offer for sale from August 2nd 2017 until 21 February 2018 for departures 1 May 2018 – 31 Oct 2018 for a minimum 3 nights consecutive stay. After August 4th 2017, offer subject to quota per date of departure and to removal without notice once reached. Discount may vary depending on the Resort and Date of travel and Blackout dates may apply. Prices and promotion may vary for stays overlapping two travel periods. Prices advertised are based on Adults (18+), Teens (12-17) and Children (4-11). Twin Share in a Club room non-connecting, except for Sanya which is based on Deluxe room, and Finolhu Villas which is based on Beach Sunrise Villa. Offer not valid for group travel or in conjunction with any other offer. Ferry transfers included for Bintan Island. Local transfers not included in price but available for pre-booking. Offer is valid for new bookings by Australian and New Zealand residents only and is subject to availability and may change without notice. For more information on our terms and conditions visit Clubmed.com.au.